[caption id="attachment_3394" align="alignleft" width="523"]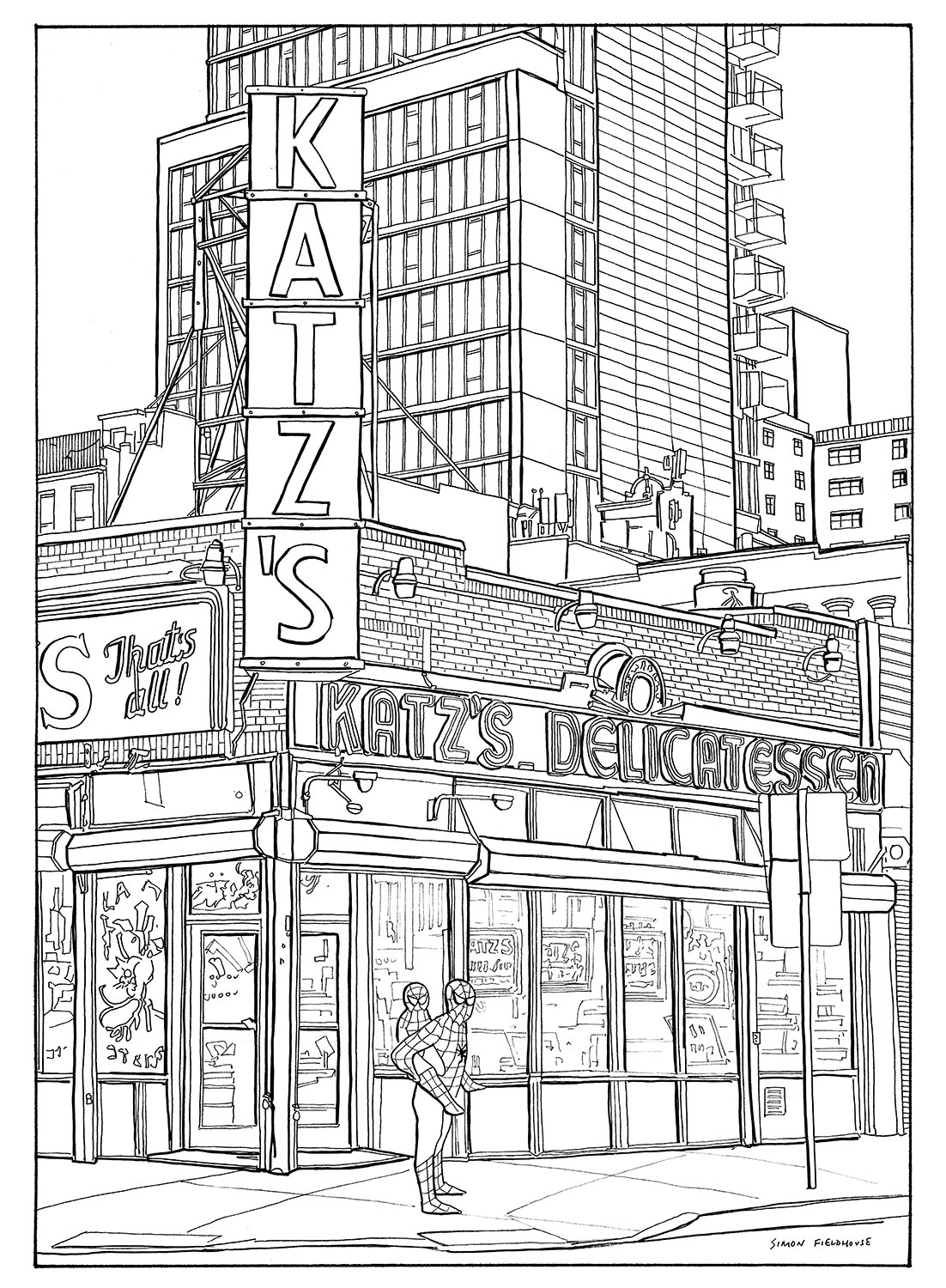 Katz's Delicatessen – New York[/caption]
Katz's Delicatessen, also known as Katz's of New York City, is a kosher style (not kosher[1]) delicatessen restaurant located at 205 Houston Street, on the southwest corner of Houston and Ludlow Streets on the Lower East Side in Manhattan, New York City.
Since its founding in 1888, it has become popular among locals and tourists alike for its pastrami sandwiches and hot dogs, both of which are widely considered among New York's best. Each week, Katz's serves 10,000 pounds (4,500 kg) of pastrami, 5,000 pounds (2,300 kg) of corned beef, 2,000 pounds (910 kg) of salami and 12,000 hot dogs.
In 2013, Zagats gave Katz's a food rating of 25, and ranked it as the number two deli in New York City,[2] after Mile End in Boerum Hill, Brooklyn.
In 1888, the Iceland brothers established what is now known as Katz's Delicatessen on Ludlow Street in New York's Lower East Side. Upon the arrival of Willy Katz in 1903, the establishment's was changed from Iceland Brothers to Iceland & Katz. Willy's cousin Benny joined him in 1910, buying out the Iceland brothers to officially form Katz's delicatessen. Their landsman Harry Tarowsky bought into the partnership in April 1917.
The construction of the subway system required the deli to move to the present side of the street, although the entrance remained on Ludlow Street. The vacant lot on Houston Street was home to barrels of meat and pickles until the present storefront facade was added in the period 1946-49.
In the early part of the twentieth century, the Lower East Side was home to millions of newly immigrated families. This, along with the lack of public and private transportation, forged a solid community such that Katz's became a focal point for congregating. On Fridays, the neighborhood turned out for franks and beans, a long time Katz tradition.
During the peak of the Yiddish theater, the restaurant was frequently full of actors, singers and comedians from the many theaters on Second Avenue as well as the National Theater on Houston Street. During World War II, the two sons of the owners – Lenny Katz and Izzy Tarowsky – were both serving their country in the armed forces, and the family tradition of sending food to their sons became sealed as the company slogan "Send A Salami To Your Boy In The Army".[5] The slogan itself was coined by Izzy's mother Rose Tarowsky whose son served in the South Pacific as a bomber pilot.
The next change in ownership took place with the death of Willy Katz, as his son Lenny took over. In 1980, both Lenny Katz and Harry Tarowsky died, leaving the store to Lenny's son-in-law Artie Maxstein and Harry's son Izzy. In 1988, on the 100th anniversary of its establishment, no offspring of their own to leave the business to, Lenny, Izzy and Arthur sold it to long-time restaurateur Martin Dell, his son Alan – who was a chef and a manager at a neighboring deli – and Martin's son-in-law Fred Austin. Alan's son Jake officially joined the business in late 2009 and is currently in charge of all major operations.
The restaurant celebrated its 125th anniversary in 2013. In connection with that celebration, the restaurant opened a pop-up art gallery next door. The gallery featured original art by New York City artists such as Baron Von Fancy and others.
[caption id="attachment_3386" align="alignleft" width="537"]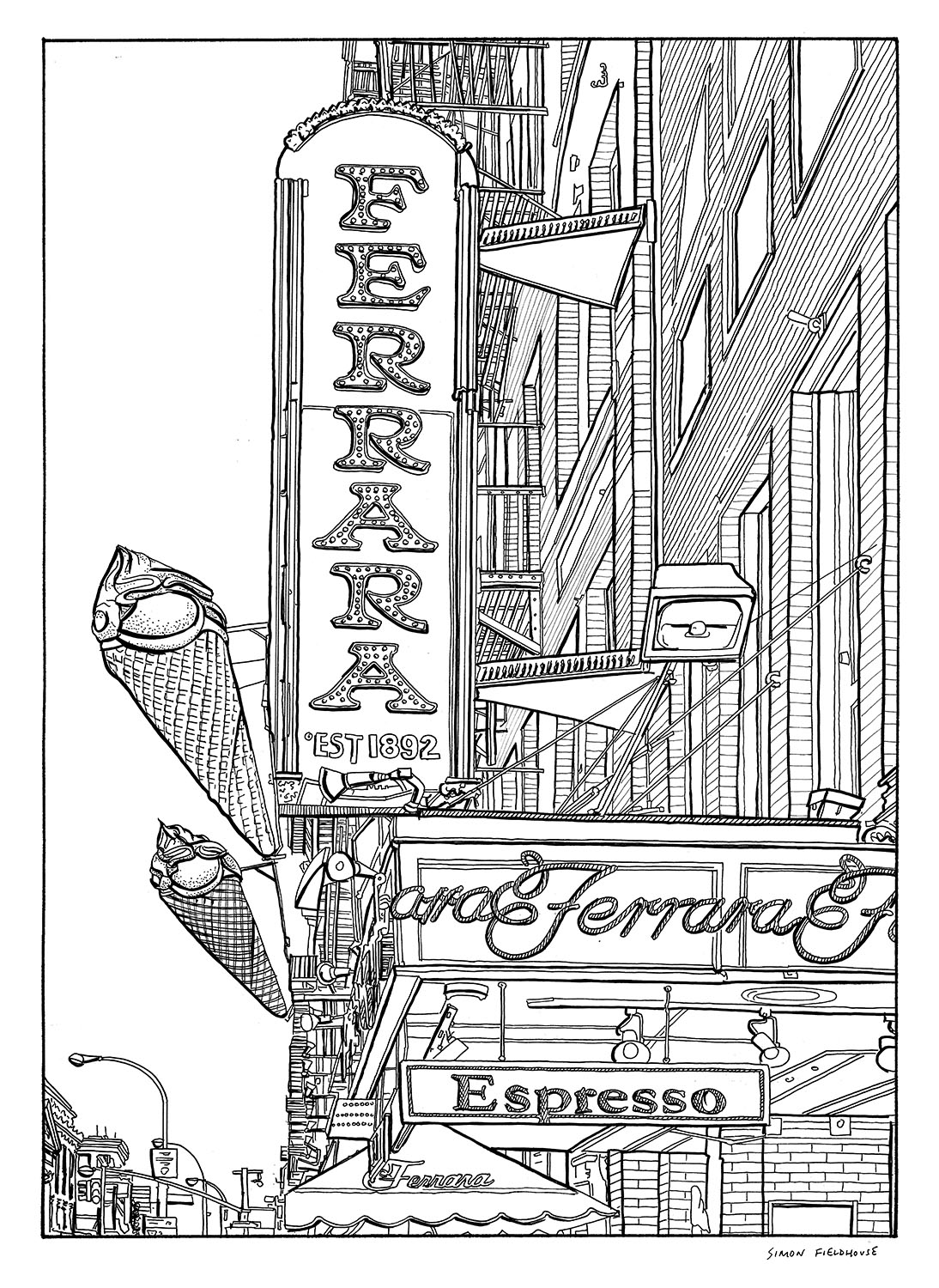 Ferrara Bakery and Cafe – New York[/caption]
Ferrara Bakery and Cafe was Ferrara established in 1892 by Antonio Ferrara and claims to be America's first espresso bar. It is located in the heart of Little Italy and offers a variety of Italian delicacies that include: cakes, cookies, pastries, desserts, and gourmet specialty items. Ferrara has remained a family owned business since its inception and is operated at its original location on Grand Street in New York City borough of Manhattan by the family's fifth generation of bakers. Many of their items can also be purchased through their website and shipped throughout the United States.
[caption id="attachment_3401" align="alignleft" width="515"]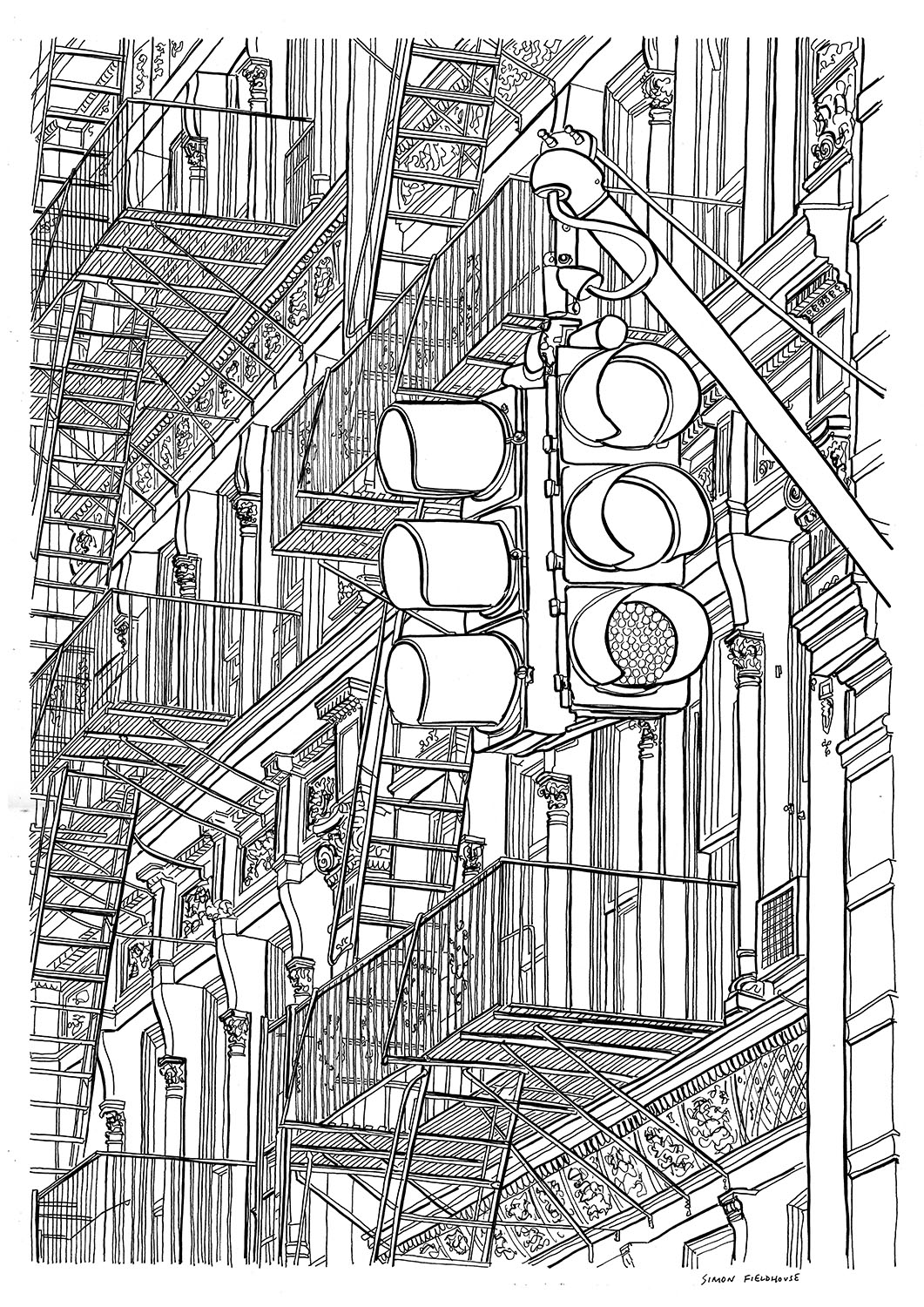 Soho Traffic Lights – New York[/caption]
SoHo, sometimes capitalized Soho,[2] is a neighborhood in Lower Manhattan, New York City, which in recent history came to the public's attention for being the location of many artists' lofts and art galleries, but is now more noted for its variety of shops ranging from trendy upscale boutiques to national and international chain store outlets. The area's history is an archetypal example of inner-city regeneration and gentrification, encompassing socio-economic, cultural, political and architectural developments.
The name "SoHo" refers to the area being "South of Houston Street", and was also a reference to Soho, an area in London's West End.[4] It was coined by Chester Rapkin, an urban planner and author of the The South Houston Industrial Area study,[6] also known as the "Rapkin Report". This began a naming convention that became a model for the names of emerging and re-purposed neighborhoods in New York such asTriBeCa for "Triangle Below Canal Street", DUMBO ("Down Under the Manhattan Bridge Overpass"), NoHo ("North of Houston Street"), Nolita ("North of Little Italy") and NoMad ("North of Madison Square"), among others.
Almost all of SoHo is included in the SoHo-Cast Iron Historic District, which was designated by the New York City Landmarks Preservation Commission in 1973, extended in 2010, and was listed on the National Register of Historic Places and declared a National Historic Landmark in 1978.[7] It consists of 26 blocks and approximately 500 buildings,[8] many of them incorporating cast iron architectural elements. Many side streets in the district are paved with Belgian blocks.